CarbConfig: Tune With The Best
Dell'orto set-up made easy with this new specially developed software. No more guesswork, now you can see just what difference each change makes. There has been little new from Dell'orto for many years, the trick is in the correct combination.
You know the problem, "won't get off the line", "bogging" out of corners, "won't rev out", "detonating", "cutting out" and you know what you need to do. But is it jet up, jet down, lift, lower or change the needle or tube? Now you can see what your "gut feeling" is going to do to the jetting, before hitting the track.
With each change your knowledge will improve, saving each setup with comments will soon build up a massive resource of what changes did, at what track with what weather conditions.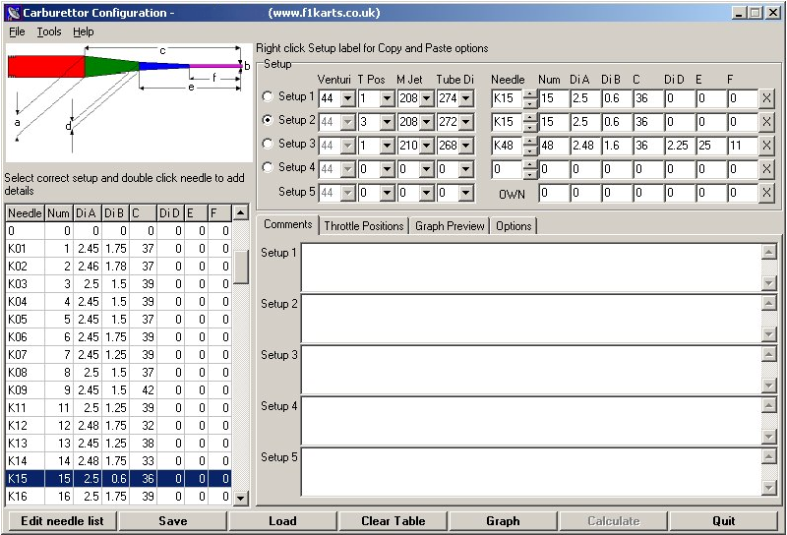 SCREENSHOT OF THE SET UP PAGE
All the major changes including needle, needle height, emulsion tube, main jet and even venturi size can be varied. Up to four different combinations can then be compared together both in the table and graphically. You can even build up a theoretical needle to match exactly what you want, and search available needles for the best match. Results are tabulated for comparison and as graphical overlays. You will be constantly surprised at what tricks you can find.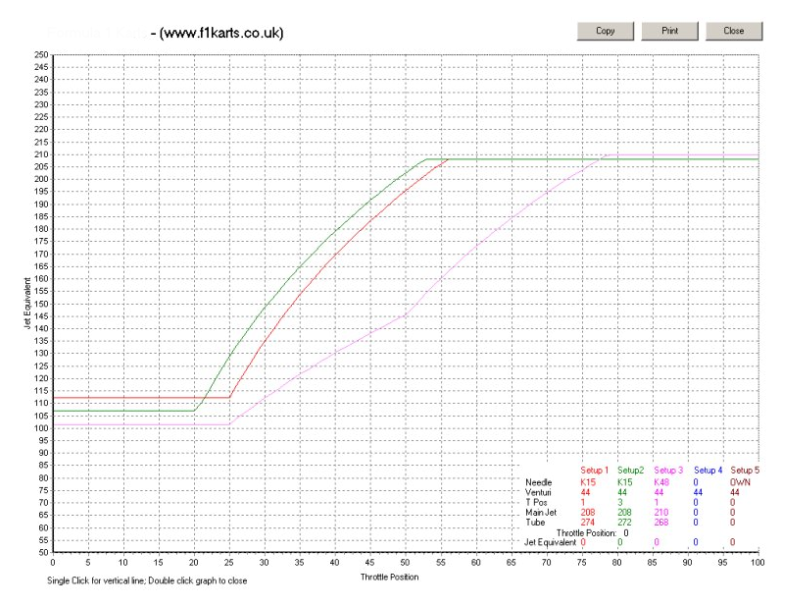 SCREENSHOT OF THE OVERLAID GRAPHS
During its development, this software has helped only a few people. Such as the European Champion, two French Champions and Winner and Runner Up at the World Superkart Championship at Laguna Seca California last year. Fastest lap too.
Take the mystery out of carburation, and tune with the best!
Contact F1Karts to obtain this software!